Measuring for blinds is simple, once you follow the instructions.
Please remember that all our blinds are custom made and if the sizes are incorrect it is impossible to change the blind. Blinds are not returnable and no refunds are given once the product has been made according to your measurements. In the event of a defect in the material, we will be happy to repair or replace the blind. Finished measurements of a product are from the head rail to the bottom rail or vanes/blades.
Measure all windows, even if they appear to be the same size
Don't be surprised if your windows are not perfectly straight
Don't be surprised if the surface of your windows walls are not level
Decide if you wish your blinds installed inside(recess) or outside (surface)
Measure to the nearest 1/8" using a Steel tape measure
Inside Installation or Recess Installation
An Inside Installation fits within the window frame and appropriate adjustments are made for operating clearance.
Measure the opening width, top, middle and bottom and use the smallest size.
Measure the opening height, left, right and center and use the longest height.
When you specify inside installation we will deduct the necessary inches from the width to ensure that the blind does not scratch your window frame.
Measurements are from bracket to bracket
Inside or Recess Measurement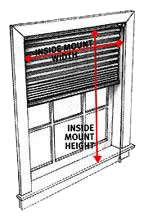 Outside Installation or Surface Installation
An Outside Installation overlaps the window opening.
Measure the opening width and add 3" to each side of the opening to give you your finished width.
Measure the opening height and add 3" to the top and bottom to allow for your finished height.
When measuring take into consideration, any light fixtures, borders or other.
Outside Installation or Surface Installation